A content calendar is a calendar or schedule for planning your future social media posts, email marketing campaigns, or blog posts organized by date. The components include the date/time, platforms, post type (e.g., IG Reels), and content (copy, category, images, videos, links, hashtags, etc.). The point is to improve your content collectively to better market yourself or your business. There's a reason professional marketing teams use content calendars for their campaigns.
Why You Should Have a Content Calendar
The main advantage is having a big-picture plan. Plotting your course from 30,000 feet is more manageable than on the ground. The result is consistency and cohesion in aesthetics (essential for IG), post frequency, and theme building.
Saving time is another significant advantage. Batching your work has proven to be more efficient than multitasking or switching tasks. Writer's block is a common problem for social media channels managed by individuals, often leading to inconsistent and unproductive posting.
Reducing mistakes seems like a small positive, but it's the difference between good and great. Early preparation can prevent typos, missing deadlines, and missing important events. For example, posting on Instagram at 11 pm on Wednesdays instead of 11 am could be the difference between getting noticed and getting lost in the feed. Many software tools offer automated posting features, so you can focus on making better content, not deadlines.
Content Calendar Tools
Content Calendar Example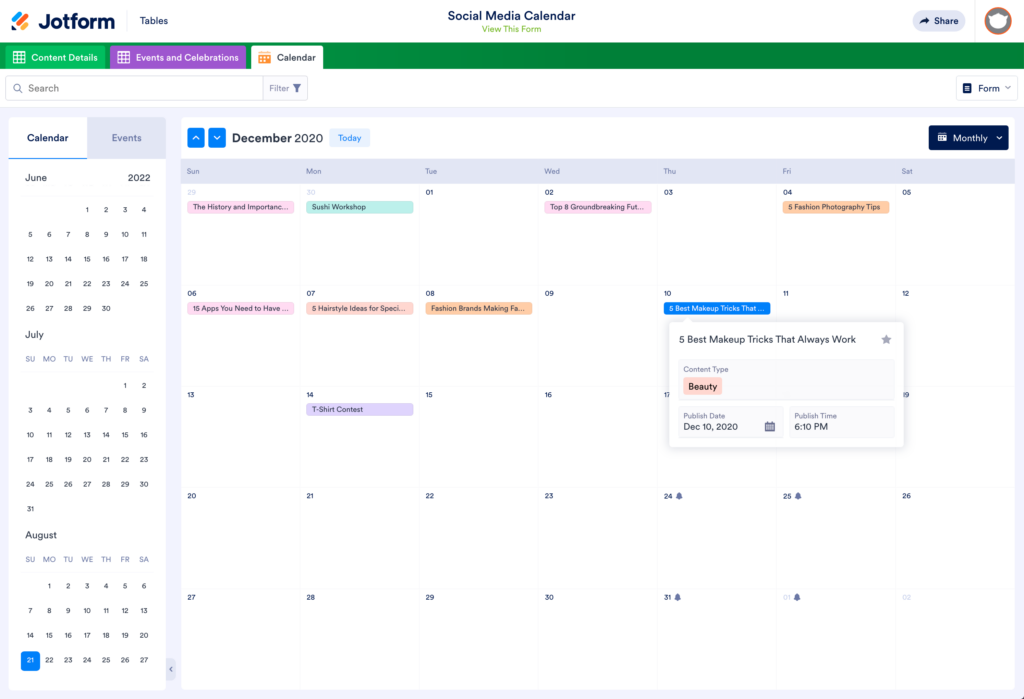 What It's Not
Content calendars aren't set in stone. It's a plan and a guideline. Adjust your plan when inspiration strikes or trends evolve. Equally important, the calendars don't need to have any specific timeframe or level of detail. You can make a calendar for the week, month, or year. This week's schedule can be very detailed and next week's schedule have fewer details. The calendar is a tool to be more successful, so make the calendar fit your needs.