Regardless of your goals, the strategy for how to succeed on TikTok is the same. Whether you want to be an influencer or build your business, success is driven by views and engagement. Give yourself more opportunities to be successful by following the strategy below.
Find your community
Hashtags, hashtags, hashtags
Make the 1st-second count
Educational and entertaining content
Caption for the algorithms
Post at the right time
Find your community
New creators frequently hear the advice "find your niche" to succeed on TikTok or Instagram. Defining your niche helps the algorithm categorize your content and distribute your videos to people that want to consume it. However, on TikTok, instead of a niche, think community. Find the community you want to join and contribute to.
The size of your community is very important. A common mistake is being very specific, which limits your potential audience size. Define your community by selecting your primary hashtag, which will be in 90% of your videos. You want something popular but not huge. Look for the pattern #__tok. Fill in the blank with whatever community you want to join.
#travel -> #traveltok
#diy -> #diytok
#fashion -> #fashiontok
#makeup -> #makeuptok
#fitness -> #fitnesstok
Hashtags, hashtags, hashtags
There's no doubt getting your hashtags right is the most crucial aspect of gaining success on TikTok or Instagram. Aim for 5-10 hashtags per video on TikTok. Most people suggest mixing large and small, but this is slightly incorrect; mix general and specific hashtags. Here's an example:
#diy #diytok #diytips #diytutorial #furniturediy #furnitureflips #flippingtips #epoxytip
The specific hashtags (e.g. #epoxytip) must reflect the content. Don't choose obscure small hashtags just because they are small. The goal is to build relevancy to the viewers, which is a positive signal for the algorithms. Building relevancy will encourage the algorithms to push your content to a larger audience.
Make the 1st-second count
Retention rate is one of the key metrics for the algorithms to push your videos. The most significant drop is usually the 1st second. Keeping viewers beyond the first few seconds is a big signal. The average watch time helps the algorithm determine relevancy and interest for a particular user/audience.
Another signal is the percentage that watches the full video. Your goal is at least 50% retention at the end. You can "cheat" a little by keeping your videos short (< 12 seconds). It's almost always a good idea to break up longer videos into 10-15 second parts. The added benefit is you can get profile views from people looking for the next clip, and you have more content to post.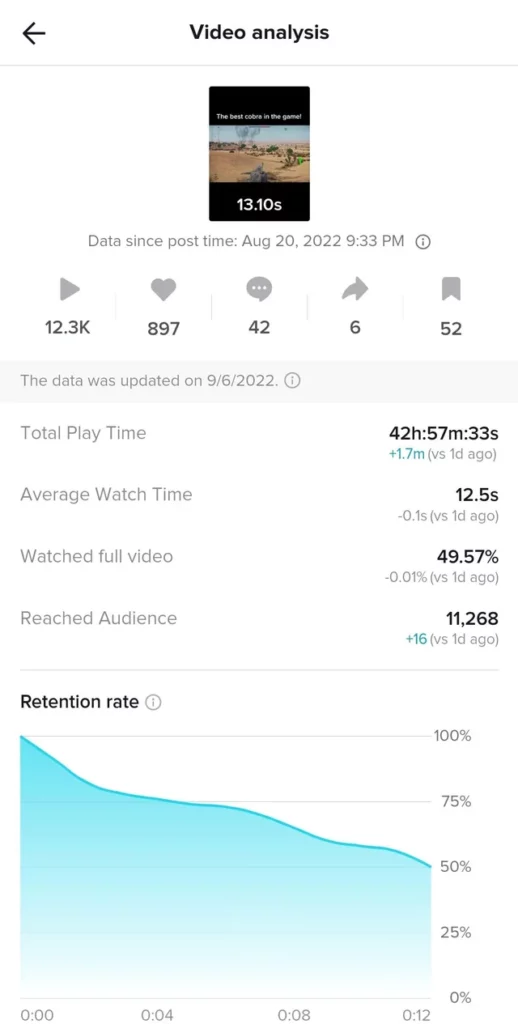 Educational and entertaining content
TikTok wants two types of content: entertainment and educational. Khartoon Weiss, TikTok's Global Head of Agency & Accounts, has very clearly stated TikTok wants entertaining content. Entertaining doesn't always mean funny. Content can be interesting, shocking, thought-provoking, or satisfying.
MAKE EDUCATIONAL CONTENT! TikTok spent millions (if not billions) on advertising #TikTokTaughtMe, so you know the algorithm is skewed for educational content. Don't fight the algorithms; create tip videos, tutorials, tricks, how-tos, infographics, etc.
Caption for the algorithms
Hashtags aren't the only way for the algorithm to categorize your content and your profile. Adding keywords to the captions and keeping the captions short helps you reach the right audience. This might have a small impact on your success, but it's a low-effort way to maximize your chances.
Post at the right time
The difference between Monday at 7 am and Wednesday at 7 am is massive. The best time is Thursday at 7 pm EST. There are many sources for the best times to post, but ultimately you'll need to determine which are the best times for you based on experimentation.
One way to ensure you post at the right time is to create a content calendar and schedule posts directly on TikTok. Check out TikTok's blog post on Video Scheduler.